WATCH VIDEO | 'I want to fight': From fitness training to sparring, women lead boxing resurgence in Johnstown | News
Table of Contents 'Growth has been crazy''They call me Doc''Boxing history's here''More than serious''I've got…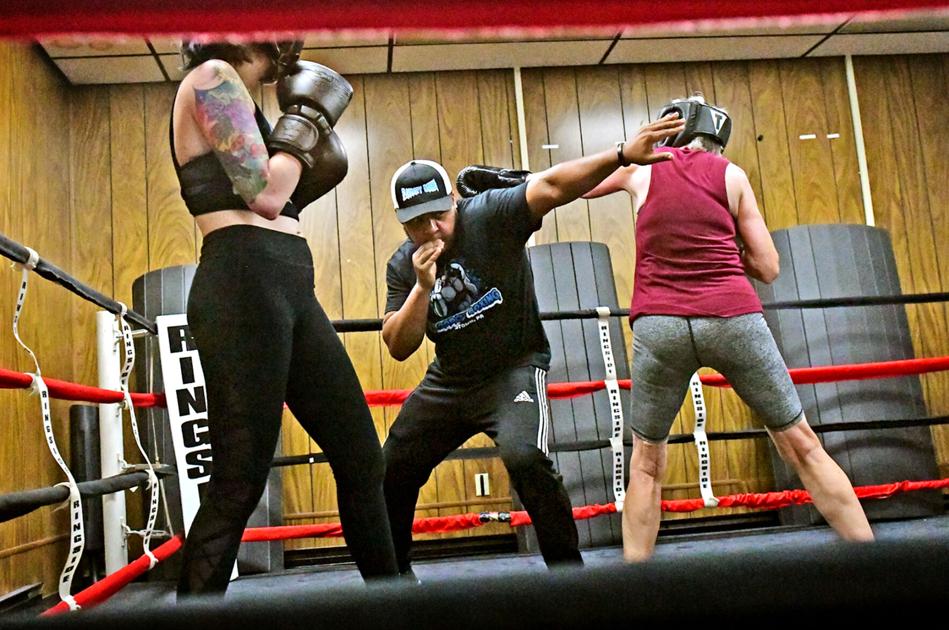 JOHNSTOWN, Pa – Adreanna Myers and Dianna Craig tap gloves, then trade jabs and hooks in the boxing ring under the gaze of coach Isaac "Ike" Herndon.
Becky Dluhos hits the heavy bag, working side to side, as Herndon offers instruction and encouragement.
A boxing resurgence is happening in Johnstown, led by a group of women who took up the sport for fitness training and then started sparring and found they love the fight game.
They meet several times each week at the Flood City Youth Fitness Academy, at 200 Lincoln St. in downtown Johnstown.
Herndon launched Flood- City Boxing in June with about 10 members, and saw the roster grow to nearly 40 in just two months – with women of various ages driving the growth of the club.
"I started doing it just for the cardio," said Myers, 29, who is clinical coordinator at the Davita Dialysis kidney center in Johnstown.
"It's a really great workout," she said. "The more I got into it, I realized, 'You know, I think I want to fight.' "
Dluhos is the mother of several sons who have wrestled at Westmont Hilltop High School.
She will turn 49 on Tuesday, and has transitioned from fitness and weight training to sparring and fighting.
"It's very intense, but it's keeping me in the shape that I want to be in," Dluhos said.
"I feel like I can compete and I feel like I'm at a level of competition where I'm ready to compete.
"I've been able to maintain my cardio – which I think is key if you're in a boxing match. I know with my boys who wrestle, endurance was always a factor, especially having two who are heavyweights. A lot of times in those matches, if you can outlast your opponent, you're a winner. I take that stance with boxing, too, for myself now. If I'm in the better cardio shape, I'll likely come out on top."
'Growth has been crazy'
Herndon, 30, has competed in boxing and mixed martial arts for years. He trained under the late Carlton Haselrig at Cold Steel MMA & Wrestling, and has ties to Cambria Mixed Martial Arts Academy in South Fork and Chris Dempsey's The Mat Factory wrestling club in Pittsburgh.
Looking to start his own boxing club, Herndon approached Flood City Youth Fitness Academy owner Oscar Cashaw and partner/trainer Donnie Roebuck about making his vision happen at their gym – which offers a variety of community-focused programs including after-school and tutoring for kids in addition to a traditional fitness center.
Herndon bought a logo and FloodCity Boxing was born in June.
"We opened up – with hope," Herndon said. "We had a majority of ladies to start out, which is OK. Now it's a fairly diverse group, with kids as young as 8 years old, some members older than 60."
He promoted the club on social media, and early members "have been spreading the word for me, which I appreciate."
Herndon's partners include Roebuck; Orlando Ellis, a fighter formerly with Kastle Boxing in Johnstown; and Jordan Herndon, Ike's brother and a competitive boxer.
"The growth has been crazy," Ellis said. "Ike and Donnie, their names ring bells in Johnstown. People know it's a real gym, and they'll help you learn and get better."
"This has expanded about as fast as any group I've seen," Jordan Herndon said. "A few of them have expressed that they want to fight. We probably have a group of five or six people who are able to get out there at the same time. … They come in here and they spar with each other. They're tough."
Ike Herndon said he had to adjust his plans to embrace the combination of fitness training and boxing.
"I had in my mind a competing gym," Herndon said. "I wanted to go out to fights. I wanted to spar other gyms, and they came in with something completely opposite, which I had to adapt to.
"A lot of my members use this for a cardiovascular workout. But with them getting more comfortable with the movements, getting more comfortable hitting the bag, I think they wanted to challenge each other – and themselves. That's when we transitioned over to the sparring."
He said seven of his first 10 members were women, and the number of female participants has kept growing throughout the summer.
"We seemed to reach ladies first," Herndon said. "They wanted to come in, do the training, put the gloves on, tear up my bags.
"They've been getting more comfortable with the movements. We've been focusing on foot drills – don't get hit. We seem to be growing … we work on something new every class."
'They call me Doc'
Craig, 68, is one of the coaches' prize pupils.
She is a well-known local cancer surgeon who worked at the Joyce Murtha Breast Care Center before moving to the UPMC system in Altoona and Somerset.
Now, those hands that save lives are also lacing on boxing gloves.
"They call me Doc," Craig said of her relationship with the other club members. "I have always enjoyed boxing, watching it on TV. As a kid, I never did it because I didn't have anybody connected with boxing."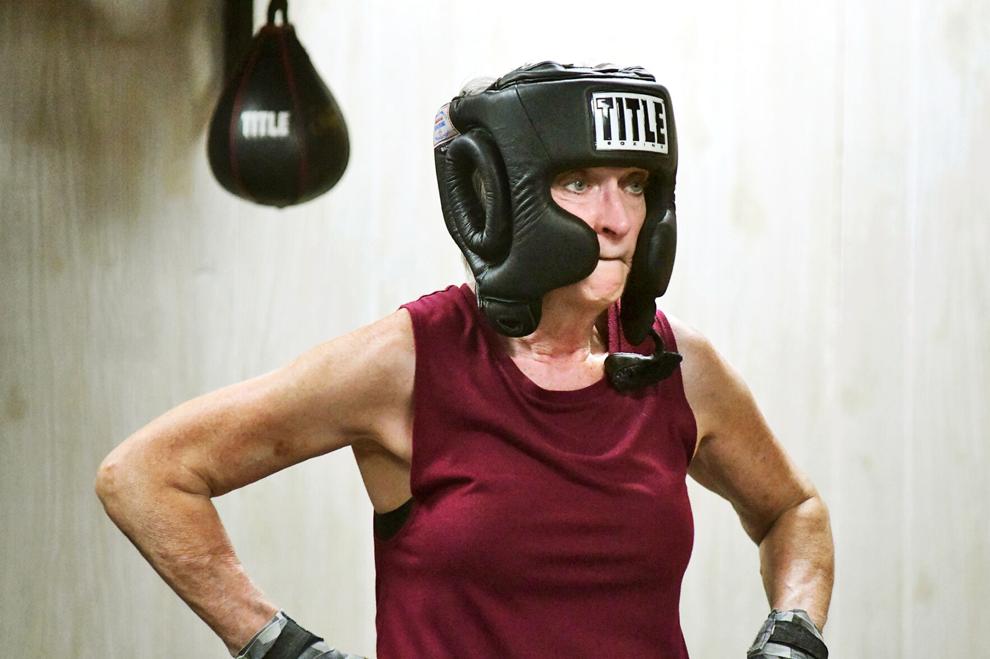 She added: "I looked it up online, and this was a gym that had boxing. So I walked through the door one day. Donnie and Oscar, the owner here, were standing there and they go, 'Hi, can we help you?' I said, 'Yeah, I want to learn how to box,' and both of them just cracked up laughing. That just makes you feel really good, right? What was I thinking?"
Roebuck recalled that initial encounter with the local cancer doctor.
"She came to me years ago wanting to know about boxing – she wants to try boxing," Roebuck said. "And she'll tell you, for a long time I wouldn't let her in the ring. I said, 'I don't want to do that. You're a surgeon. I don't want you to hurt your hands or anything, ' and then she said, 'Donnie, I want to try it for real, for real.' I said OK, and she's doing fabulous."
Craig, who doubles as a ringside physician, said she learned quickly that boxing provides an intense workout.
"You can't beat it as far as exercise goes," she said. "People who look at it on TV and think, 'Oh, that's easy, three minutes in the ring, I could do that' – they need to get in the ring and see how hard it is."
Craig said she got started "working with Donnie, just going through the drills on the bag and on the mitts, just doing it for exercise." But all around her, more and more people were taking up the sport – most of them women.
"There was this boot camp at night, where a lot of ladies were," Craig said. "And they decided they wanted to start a boxing team here, Ike did, and so, we'd already been sparring a little bit. So this just made it a nice team sport. We're all on the same team.
"We're the only club that I've been to that has this many ladies. The club we went to in Pittsburgh didn't have that many. … I don't know why. I guess because it kind of started with people doing it for exercise, and then those that really want to get better at it, with sparring and getting more serious about it just kind of kept with it. We do have a really good group of ladies."
Roebuck said: "Dr. Craig … her occupation, her age, and her determination. I mean, I'm so impressed with her. We've taken her to different clubs, and we've walked in the door and said, 'I have some women boxers.' They said, 'Are you going to let her box, Donnie?' I said, 'Just watch. Just watch,' and then everybody's like, 'Hey, I don't know how you did it, I don't know how she did it, but she's good.' … Walking through the door with her, and people seeing what she can do, really puts a feather in our cap."
Myers – less than half Craig's age – said she is inspired by her teammate's work ethic and tenacity.
"I remember the first time I worked with Doc over there," Myers said. "I was afraid to spar her, but she's feisty, man. She's a good fighter. … She'll hit back."
'Boxing history's here'
Jesse Evans, 26, originally from Philadelphia, has been in Johnstown since 2019 and recently joined FloodCity Boxing.
He said his uncle was a pro boxer, and his father fought as an amateur. He started competing as a teen, but had back surgeries in 2012 and 2013. Now he's fighting his way back.
"What I love about it the best is the skill aspect of it," Evans said. "It's technical. It's a mind game. But one thing I realized is that it's not like all sports. You can't 'play' boxing. So, it's a serious game. But I feel like it's fun, you know, it gets you in shape, and also creates some opportunities. I want to continue to compete, kind of pick up where I left off."
That's the spirit of FloodCity Boxing, too – cultivating, or recapturing, the passion for the sport in Johnstown.
"We always liked to be at the major events in Johnstown," said Jordan Herndon, who turned 31 on Friday. "Andres Taylor's fights were big for us."
Johnstown's Taylor, training at his Taylor Made Boxing club, won the World Boxing Foundation All Americas cruiserweight title in 2009 in a fight at 1st Summit Arena. He compiled a 21-8-2 professional record with eight knockouts.
"I see us just expanding on the boxing," Roebuck said. "I see more of the kids boxing coming out of this. I see more of the female boxing. For us to actually hold more events in Johnstown, sponsored by FloodCity Boxing, and bringing more people interested in the boxing and more support for it. …
"I've been fortunate to be involved when Andres Taylor had it. I was on his team. He brought boxing back, and we had the War Memorial flooded and we were downtown doing the boxing outside at the Point Stadium. You know, I was fortunate enough to be a part of that. So I know the boxing history's here. All we have to do is set it up again."
The sport is good for the town, Jordan Herndon said.
"Boxing provides a good culture shift for kids and adults," he said. "We have people from different backgrounds – all working on team-building, working, eating healthy. … Hopefully, we'll get the excitement back for boxing in Johnstown."
Ike Herndon said his goal is to get each team member a fight license and opportunities to face outside opponents.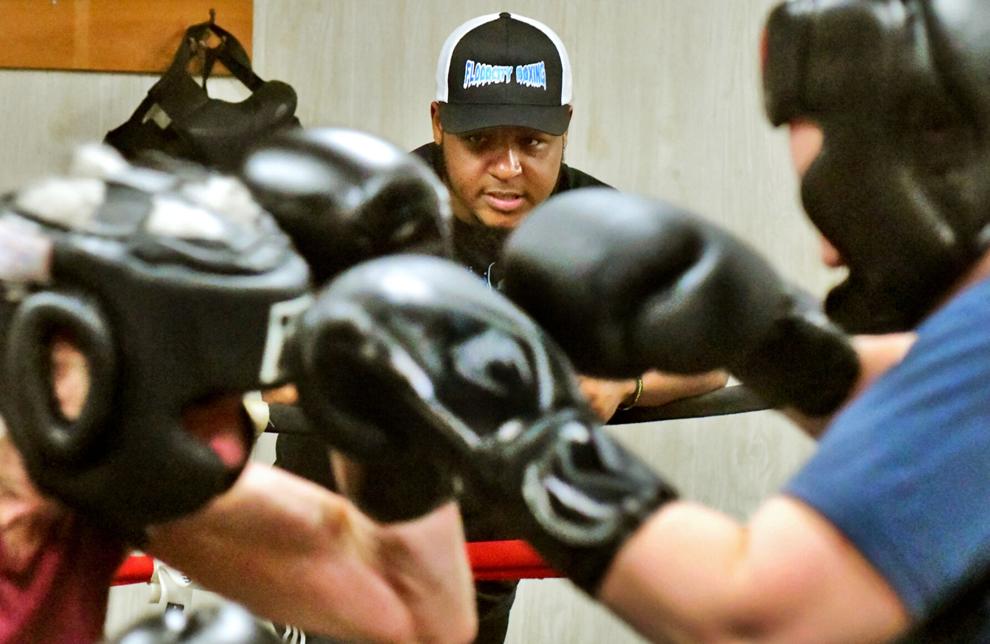 The FloodCity Boxing team has traveled to spar with clubs in Pittsburgh and Indiana, and is planning to visit a gym in Altoona in the coming weeks.
"We want them competing – not just for the club, for themselves," he said. "There's no thrill like getting into the ring to compete. I've been there myself. Give me another year and I'll have them ready."
Herndon added: "This is all for the community. I'm all about Johnstown."
'More than serious'
The women will lead the way, Ike Herndon said.
"Growing the sport of women's boxing has always been a goal of mine," he said. "I would like to be one of the first to do that. It's definitely fun to watch and it's definitely on the rise, and not something you see too often."
Roebuck agreed.
"As they got more and more involved with it, and as they started attending boxing matches, they saw themselves actually wanting to do the boxing," he said. "So I told them, if they're serious, I'll put the time in, and they have showed me they're more than serious. … and there's no backing down for them. Whatever challenge we bring up to them, they're like, 'OK, we'll try it. Let's go.' They trust in us.
"You're going to be shocked when we announce an all-women's boxing match," Roebuck said. "And if it's not all women, it will be a majority women, which it's usually the reverse, and you're going to see even more women. Because that's the thing about it, when we post these events going on and sparring with different women, it just comes back to us. 'Oh, you've got women. I know this girl, she wants to box' … Even other gyms that don't have boxing where we know people, they're like, 'Hey, I want to send this person down there.' That's how it goes."
Ike Herndon said of his training program: "We work on basic combinations," with a number system for teaching the use of jabs, crosses, hooks and upper-cuts. "The name of the game is hit and don't get hit."
And learning to box can have a secondary benefit, he said.
"If I can pass along what I know, that makes me feel good, honestly," he said. "If I could prevent an unfortunate circumstance from happening – God forbid, one of these ladies gets attacked, or be in a situation to where they're in danger – if they were to come back and tell me, 'I used what we learned in boxing to fend this attacker off,' that's great. There's nothing that compares to that.
"If it just makes you feel good just to know that your hands are right, and that you can defend yourself or you can be the attacker, you can go into a fight, that's all great. My satisfaction each and every one of these training days is knowing that I've given my all to this team, and that I've watched them put the work in and they gave their all back to me."
'I've got the trunks'
Myers said she looks forward to testing her skills against an opponent – soon.
"I'm planning to take a fight in November," she said. "That's the plan. I bought the trunks, so I guess it's kind of official.
"I've got the trunks, I have to fight, right?"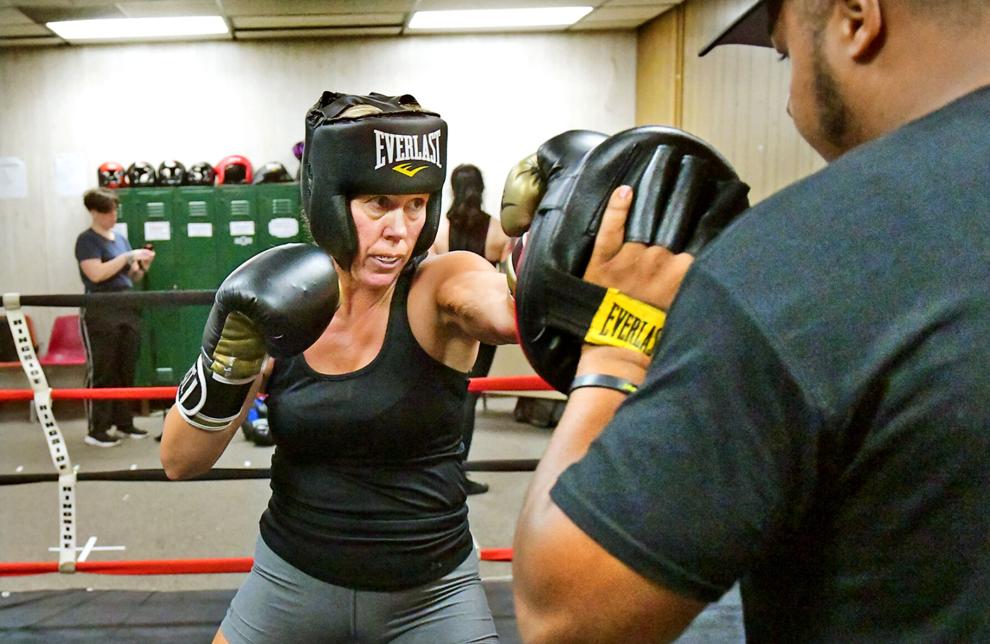 Dluhos said she is proud to be part of a women's movement with the sport – in Johnstown.
"Women of all ages, shapes, sizes – encouraging each other," she said. "I know that sounds cliché, but it really is true. We've become friends and we're very supportive of each other, and I love it. It's just become a part of what I do.
"I've met a lot of women who I didn't know before I started coming here, and that's one of the reasons why I've continued to come over the years. Even before I started to spar with Ike in the ring, I kept coming because of the friendships that I had made with the women in the boxing boot camp."
Like Myers, she believes she's ready for outside competition.
"I'd like to compete," Dluhos said. "I'd like to do an amateur fight, but I don't know if I'll be able to get one. Donnie and Ike said if they can't get a fight for me, they could at least get me an exhibition.
"I never boxed. I wasn't sure that it was something I could even do when Donnie suggested that I box. I thought he was teasing me at first. I was always able to catch on quickly. I played volleyball in high school. I ran track and field. I was a cheerleader. … I was a dancer. So I was always a very active person. But boxing was something that I had never even thought of. I wish that I would have known about it 20 years ago. But I guess it's never too late to try something new."
Craig can attest to that.
"If I were younger, I'd probably be wanting to fight," she said. "I have told Donnie and Ike both that I want to do it, and if somebody sees me do it, they think, 'She knows what she's doing.' That's the main thing. I want to learn correct form. If you learn something, you want to do it correctly.
"If I can do it, anybody of any age can do it. We have young kids here and all ages in between, and it's a lot of conditioning. You've got to just work at it. You start at the bottom and work your way up – and anybody can do it."
Chip Minemyer is the editor of The Tribune-Democrat and TribDem.com, and CNHI regional editor for Pennsylvania, Maryland, Ohio, West Virginia and North Carolina. He can be reached at 814-532-5091. Follow him on Twitter @MinemyerChip.
Chip Minemyer is the editor of The Tribune-Democrat and TribDem.com, and CNHI regional editor for Pennsylvania, Maryland, Ohio, West Virginia and North Carolina. He can be reached at 814-532-5091. Follow him on Twitter @MinemyerChip.